Project aims to map invasive plants in west Cumbria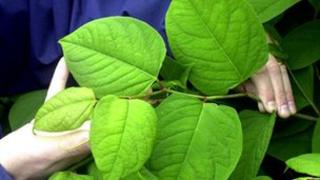 Efforts are being made to stem the spread of invasive plant species in west Cumbria.
West Cumbria Rivers Trust has teamed up with Allerdale Council and Cumbria Highways to identify and map areas of Himalayan Balsam and Japanese Knotweed.
Both species are blamed for crowding out native plants, with knotweed known to cause damage to buildings and roads.
Once the mapping is complete, funding is to be sought for a large-scale eradication programme.
Karin Crofts, of the West Cumbrian Rivers Trust, said: "This is a really important step in assessing the spread of these plants and the impact they are having on our native plants, habitats and even our homes.
"Both species were brought to the UK by the Victorians who wanted ornamental plants in their gardens.
"But they escaped and have taken over the countryside, smothering our native plant species and causing riverbank erosion and environmental damage.
"Although Himalayan balsam can be tackled, Japanese knotweed is much more complicated.
"It is a plant that can spread from a piece of root the size of your little fingernail and it can grow through tarmac and concrete. It is very difficult to destroy. It must be treated by a professional."