John Jenkin accused of Millom mother and sister murder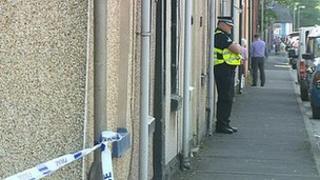 A man has been remanded in custody after being charged with the murder of his mother and sister in Cumbria.
The bodies of Alice McMeekin, 58, and Kathryn Jenkin, 20, were found at a terraced house in Newton Street, Millom, on Saturday.
Both had suffered head injuries. The family dog had also been killed.
John Jenkin, 23, was remanded in his absence by Barrow magistrates, after the court heard he was deemed a risk to himself and potentially to others.
No pleas were entered and a bail hearing was scheduled for Wednesday at Preston Crown Court.
'Untimely death'
Mr Jenkin, of Newton Street, Millom, who arrested an hour after the bodies were discovered in a distressed state, has also been charged with animal cruelty.
Friends of Kathryn Jenkin, known as Katie, have described her as a "bright and much-liked student."
Miss Jenkin was a student at the University of South Wales in Cardiff.
Gill Sandford, dean of the Faculty of Creative and Cultural Industries, said: "The university's staff and students are extremely sad to hear of the untimely death of Katie Jenkin.
"She was a bright, much-liked and promising student and our thoughts are with her family.
"As a close community we will come together to support our colleagues and students at this difficult time."