Pledge to tackle Appleby Horse Fair disruption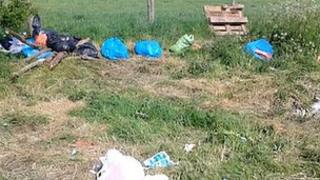 Organisers of the annual Appleby Horse Fair in Cumbria have pledged to tackle disruption caused by refuse and blocked roads at next year's event.
Some residents in the town complained those attending the event left areas littered with rubbish and human waste.
About 10,000 Gypsies and travellers and a further 30,000 visitors attended the six-day fair.
Police said it was largely well-behaved, despite the number of arrests up from 28 last year, to 40.
Robin Hooper, chief executive of Eden District Council and chair of the fair's organising committee, said: "We are aware of the concerns raised by local residents, some in relation to refuse disposal and roads being blocked.
"We will look at these issues and will continue to try and minimise the disruption."
Organisers also received complaints that some access roads into the town had been blocked by caravans and other vehicles at makeshift campsites.
North West Ambulance Service said staff dealt with several minor injuries, many of which were treated at the scene.
The RSPCA said it did not have to deal with any significant issues.