Company bid £1m 'in error' for Hoopers shop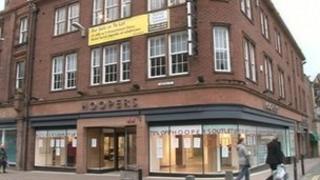 A company bid £1m "in error" during an auction for a closed department store.
The former Hoopers department store, on Castle Street in Carlisle, closed in March after it was "not viable in financial terms" to stay open.
The unknown company that won the auction in May failed to provide the deposit and is said to have "bid in error" according to auctioneer Allsop.
In a statement it said the sellers have agreed not to enforce the contract and the store still belongs to Hoopers.
The representative of the company that made the bid was in the room during the auction.
A spokesperson for Allsop added: "There could be multiple reasons for this but fortunately this happens very rarely.
"The vendors have had a couple of approaches from prospective tenants and have decided for now to seek to let the property and not to find a buyer."
The troubled department store closed its doors for the final time in March with the loss of 23 jobs.
A spokesman for Hoopers said it was "not viable in financial terms" for the store to remain open.