Cumbria Police asked school bus driver to block stolen car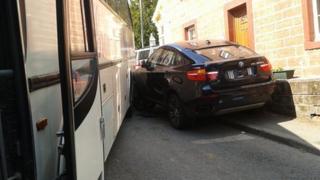 The driver of a school bus carrying pupils was asked by police to block a road in Cumbria to stop a stolen car, it has emerged.
The car hit the bus in Appleby on Friday and a man, 31, from Gateshead was charged with a number of offences.
Police praised the actions of the bus driver after they made the request to protect crowds visiting the annual Horse Fair.
Some parents, however, have complained their children were put at risk.
Police and Crime Commissioner Richard Rhodes has also asked the force for more details.
"Clearly people were concerned about what happened," he said. "They were concerned that children were on this bus which was then in a collision with this vehicle which was stolen."
'Serious risk'
Parent Tim Wass said children as young as five were on the bus.
"To be put in that situation by the police was very, very concerning," he said.
Ch Insp Kevin Greenhow confirmed the bus driver was asked to block the road.
He said: "It was a dynamically changing situation, there were a lot of people on the road beyond where the bus was parked.
"The officer who asked the bus driver to do that believed they were at serious risk.
"The police officer made a decision based on what he saw at the time."
Three pedestrians and one horse suffered minor injuries in the chase.