New £7m Lillyhall 'nuclear' campus officially opened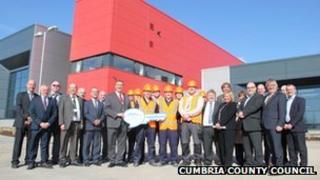 A £7m college in Cumbria to teach people the skills needed for future nuclear and energy projects has been officially opened.
Britain's Energy Coast Construction Skills Centre at Lillyhall, Workington, will help up to 600 students gain vital skills for the nuclear industry.
Work on the centre of excellence on the Lakes College site began last year.
Tom Zarges, chairman of Nuclear Management Partners, said it will have a "positive impact" on the community.
The college, which was officially opened on Thursday, will teach students everything from electrical installation and brickwork to more advanced skills like installing and maintaining renewable energy technologies.
The project was managed by Cumbria County Council, built by Esh Construction, and funded by Britain's Energy Coast in partnership with Nuclear Management Partners, Britain's Energy Coast Campus and Lakes College.