Whitehaven Festival has Royal Navy visitor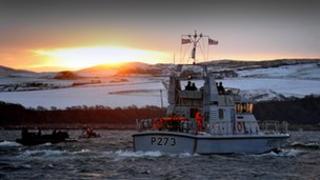 A Cumbrian Royal Navy officer brought his own Royal Navy patrol vessel into Whitehaven for the town's festival.
Commanding officer of HMS Pursuer, Lieutenant Gary Bickley, 33, first called at his home town of Workington, before sailing to Whitehaven.
He said he had wanted to bring a ship into Cumbria since he joined the navy.
This year's Whitehaven Festival features performances by McFly, Sweet and Slade, and about 200,000 people are expected to attend.
Lt Bickley said: "It gives me a huge amount of joy to bring HMS Pursuer into my home town as her commanding officer."