Barrow gas explosion: One woman hurt in Ainslie Street blast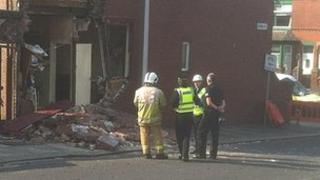 A woman has been injured after an explosion, believed to have been caused by a gas leak, partially demolished a house in Barrow-in-Furness in Cumbria.
The kitchen of the house in Ainslie Street was demolished in the blast on Wednesday morning, which also caused a small fire.
The woman was treated at the scene for minor injuries, Cumbria Police said.
Neighbouring properties were evacuated and police said a structural assessment of the house was being carried out.
The Health and Safety Executive (HSE) is leading the investigation into the blast, which is thought to be linked to a recently installed cooker.
The force spokesman said Ainslie Street would remain closed for most of the day.
He added: "A wall of the property collapsed. It is believed that a gas leak led to an isolated explosion at the property.
"The occupant of the house is safe and well and has been seen by paramedics at the scene for minor injuries."
A spokesman for Cumbria Fire and Rescue Service added: "The kitchen of the property is demolished and there was one small fire which was put out.
"All residents are accounted for."