Cumbria hospitals parking fines 'ignored'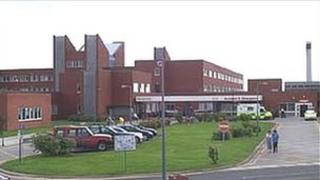 Parking fines at south Cumbria hospitals have almost doubled in two years but most are not paid, the BBC has learned.
Figures obtained under the Freedom of Information Act showed 1,266 penalty notices were issued in 2012 but only 135 were paid.
The fine is £3, which is 50p less than the cost of up to four hours parking.
Barrow councillor Lesley Graham, health spokesperson, said the fines were "potentially unenforceable".
The Morecambe Bay NHS trust, which runs hospitals in Barrow, Kendal and Lancaster, needs to cut its spending by £30m.
It has yet to comment on the number of fines and the resulting revenue.
'Drop in the ocean'
The amount raised in parking enforcement in 2012 was £418.
Ms Graham said this was a "drop in the ocean" compared to the savings the trust had to make.
"The legal situation is a real minefield around penalty notices which aren't enforced by traffic wardens or the police," she said.
"It is only as school of thought which says they are unenforceable, it may not be the legal case."
The increase in fines was greatest at Furness General Hospital in Barrow with 829 issued in 2012, compared with 471 in 2010.
In both years more than 85% were not paid.
At Westmorland General Hospital in Kendal 127 penalty notices were issued last year but only 19 were paid.
At the Royal Lancaster Infirmary 13 out of 310 fines issued in 2012 were not paid.