Richard Rhodes expenses leak: CPS handed police file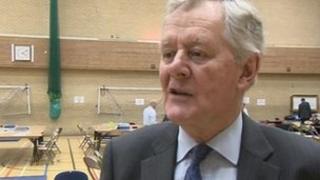 Police investigating alleged leaking of expenses claims by Cumbria's police and crime commissioner have handed a file to the Crown Prosecution Service (CPS).
Lawyers are considering charges against two of three people arrested after PCC Richard Rhodes used a chauffeur-driven car costing £700.
A 50-year-old woman police employee and a 54-year-old Penrith man were arrested in April.
Details of Mr Rhodes' expenses were leaked to a local newspaper.
Cumbria Police said it was continuing the investigation into the alleged leaks and could not rule out further arrests.
Mr Rhodes has apologised for "mistakes" in failing to check costs before hiring a chauffeur-driven Mercedes to go to two evening engagements.
The 50-year-old woman was arrested on suspicion of data protection offences and misconduct in a public office.
The 54-year-old man was arrested on suspicion of perverting the course of justice.
A 47-year-old woman and 59-year-old man - both police employees - who were also questioned, have been told they will face no further action.