Siddick Ponds nature reserve 'recovering' from arson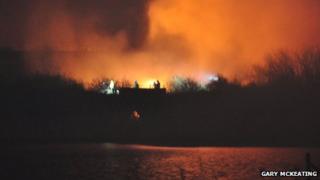 A nature reserve seriously damaged by arson is now "recovering well".
Siddick Ponds, a Site of Special Scientific Interest on the outskirts of Workington, Cumbria, was set alight in April during a spate of grass fires.
Bill Bacon, chairman of the Friends of Siddick Pond, said "nature had taken over" to repair the site.
"We didn't know what the lasting effects were going to be and to see everything coming back together is brilliant," he said.
The site is home to more than a hundred breeds of bird and is visited by migratory species such as bitterns.
Reeds damaged in the fire have now grown to 2ft (about 0.6m), Allerdale Borough Council said.
Machinery has been used to improve the flow of water.