Trevor Gordon jailed for conning woman, 88, out of home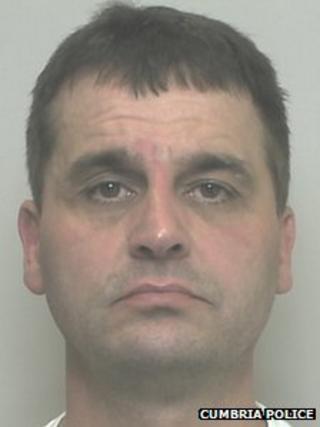 A man who fleeced a "vulnerable" 88-year-old woman out of her house and savings has been jailed for five years.
Trevor Gordon, 51, from Whitehaven, in Cumbria had known the woman for more than 40 years and was treated "like a son", Carlisle Crown Court heard.
But in 2006 he sold her £80,000 house for £35,000 without her knowledge, leaving her a tenant in her own home, then stripped her savings of £22,000.
He admitted 16 counts of fraud and forgery after initially denying them.
Sentencing Gordon, Judge Paul Batty QC told him it was "heartless and cynical criminality."
The court heard Gordon, of Balmoral Road, Whitehaven, coerced his victim, then 81, into helping him pay off tax debts by putting into place a transaction, which he told her was releasing equity from her home.
'Despicable crime'
But in fact he had tricked the pensioner into allowing him to sell her house and later forged her signature to make it appear she agreed to becoming a tenant in her own home.
The woman finally became suspicious in 2010 and went to police.
After the hearing, Det Con Stephen Lee, of Cumbria Police, said "This was a despicable crime in which a vulnerable woman had her home sold from underneath her and her life savings stolen.
"She considered him family and trusted him to help her conduct her day to day chores as she became less able to do so due to restricted mobility.
"Gordon abused her trust and caring nature, with no apparent thought into how this would impact on her emotionally and physically.
"Her ordeal is not over as she seeks the assistance of a housing charity in attempting to regain ownership of her home."