Colourful images map Windermere's bed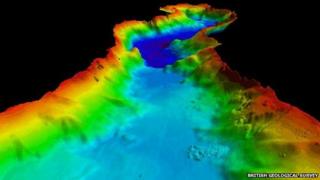 Colourful images of England's largest natural lake have been produced by geologists.
They show Windermere's lake bed as part of a study into how it was first carved out and how it has been affected by more recent events such as flooding.
The study also found spawning grounds for arctic charr, a species which has lived in the lake since the last Ice Age, have become silted up.
Experts said it highlights the need to reduce fine sediment in the lake.
The PhD is being funded by the British Geological Survey (BGS) together with Southampton University and the Environment Agency.
The BGS' research vessel White Ribbon was used to carry out a multi-beam bathymetric survey of Windermere to produce a detailed picture of the lake and the multi-coloured images.
Underwater camera
Other parts of the study included taking sediment samples from the lake bed and underwater images.
PhD student Helen Miller said: "We were really surprised by what we saw. There is a lot going on down there."
A study in the 1960s had identified several of the arctic charr's spawning habitats.
Ms Miller said: "What we have done is gone back with an underwater camera and looked at these known spawning grounds - over half of them are silted up.
"So arctic charr spawn in the gravels and we only identified gravels in just a few spawning grounds."
Dr Iain Winfield, an expert on arctic charr at the Centre for Ecology and Hydrology in Lancaster said the new work had given them a much more detailed picture.
He said the welfare of the fish was important for a number of reasons including they were very much linked with Windermere and its history and also in terms of nature conservation.
He said work was already going on to stop gravel beds silting up through the Windermere Reflections project and there was a need to continue reducing the amount of fine sediment in the lake.