Work to restore Carlisle's last electric tram begins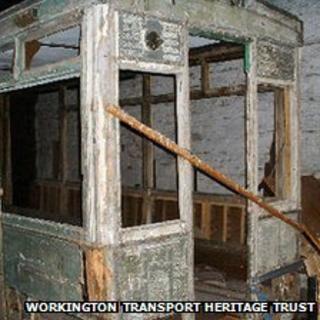 Carlisle's last surviving electric tram looks more like a disused garden shed than a remnant of the city's bygone public transport system.
But volunteers are optimistic that they can return it to its former glory.
Only the lower portion of the one-time double-decker remains and has been in a side building of Carlisle College for the past 15 years.
But now it is being carefully moved to Carlisle Railway Station, where a long-term restoration project will begin.
The Workington Transport Heritage Trust (WTHT) bought the crumbling lower seating carriage from a private seller for £50 in 2005, after plans to move it to Carlisle's Tullie Museum fell through.
Various options were considered, but the trust was forced to act when Carlisle College scheduled the current storage site for demolition.
The trust's tram co-ordinator Philip Tuer said: "We should be able to restore the main seating area relatively easily, it is the rest of it that is going to take an awful lot of work.
"We're moving the structure to Carlisle Railway Station as Virgin Trains have given us an area which we will use to begin the restoration work."
The trust hopes to raise about £12,000 for the project, which should ultimately see the entire 42-seat tram restored and put on display in the city.
Carlisle's tram system was opened in June 1900, with the last tram journey taking place in November 1931.
Mr Tuer said spare parts for the tram were being sourced in Portugal, where several of the city's 20 or so vehicles ended up.
He added: "The seats in the carriage we have are in relatively good condition.
"We will probably look to places like Portugal for other elements like the upper section, staircases and bogie."