Greenodd slow worm colony moved to new home from roundabout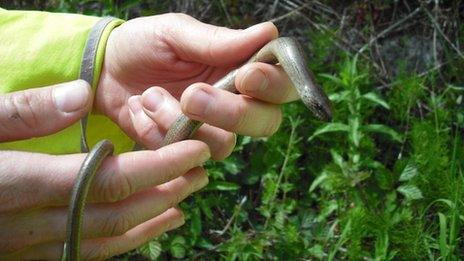 A colony of slow worms has been moved to a new home after they were discovered on the site for a new roundabout in Cumbria.
About 40 of the reptiles were found by the Highways Agency at the junction between the A590 and A5092 at Greenodd, which is currently being altered.
They were safety relocated to a nearby wooded area, the agency added.
Two Palmate newts, 38 slow worms and one common lizard in total were re-homed.
Project manager Samantha Whittaker, said: "Slow worms are commonly found in heathland and on the edge of woods, so it wasn't a surprise to find them in the Cumbrian countryside at Greenodd.
"We allowed time in the schedule to catch them and move them to safety in a hibernaculum nearby, which means we're still able to start work on building the roundabout later this year."
The Highways Agency was given the go-ahead to build the new roundabout at Greenodd to improve safety at the junction.
The £1.5 million project is due to be completed by February 2014.
Related Internet Links
The BBC is not responsible for the content of external sites.