'Badger was fox' lie Cumbria men's convictions upheld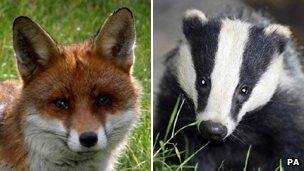 Three men given jail sentences after taking a badger from a wood and trying to pretend it was a fox have had their convictions upheld at an appeal.
But they were told the jail terms were too severe and they would probably have to do unpaid community work instead.
Shaun Dixon, 25, Anthony Dowell, 24, and Nathan Moorhead, 18, were spotted putting the animal in a van in Cumbria - illegal as it is a protected species.
The Carlisle Crown Court appeal judge said he did not believe it was a fox.
The men, all from Carlisle, were convicted at the city's magistrates' court in May of illegally taking a live badger - a protected species under the Protection of Badgers Act 1992.
The court heard they were spotted putting the animal in a van at Burthwaite, near Carlisle, on 20 September last year and later told police it was a fox.
Their appeal centred on the claim the animal was a fox and not a badger.
But the judge rejected the appeal, telling the men he and the two independent magistrates sitting with him simply did not believe their story.
They ruled the convictions should stand but the jail terms were "inappropriate".
Dixon, 25, of Atkinson Crescent, and Dowell, 24, of Tramside Way, had been facing a 140-day sentence.
Moorhead, 18, of Ridgemount Road, would have gone to prison for 60 days.
The judge said they would be sentenced on Friday and told them they would probably be ordered to do unpaid community work.
Related Internet Links
The BBC is not responsible for the content of external sites.