Keswick cricket match uses 18th Century laws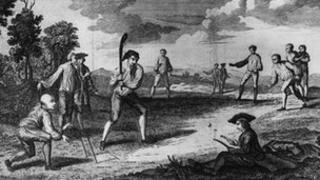 Anyone stumbling across Keswick Cricket Club this afternoon could be forgiven for feeling they have stepped back in time.
Instead of cricketers in crisp whites, they will behold the sight of players in knee britches and long-sleeved blouses playing with a curved bat.
As part of the Keswick Cricket Festival, a recreation of a match as it would have been played in 1744 is being staged at Lower Fitz Park.
It comes after months of painstaking research by cricket club committee member and league umpire Doug Beebe, who was inspired during a long drive along the Alaska Highway, in Canada, last year.
A self-confessed cricket "nut", he had spent many years playing before becoming an umpire and had read books on the history of cricket.
His idea was that recreating a match from 1744 when the first laws of cricket were written down would be a fitting event for the festival to give people an idea of how the sport was once played.
Tricorn hat
Mr Beebe laughs at the idea of anyone stumbling across Thursday's match who is unaware of what is going on.
"Anyone who's on the park and doesn't know what's happening - their eyes might open really wide," he said.
Mr Beebe will be umpiring the match wearing buckled shoes, knee britches, long white socks, a long-sleeved blouse and a tricorn hat, all of which he has made himself.
The players will be made up of other members of the cricket club, Keswick Operatic Society and the town's Street Players. Many of them will be wearing costumes they have had made for them or hired. Members of the public will also be invited to have a go.
When the laws were first written down in 1744 there were five of them, now there are 42, Mr Beebe said.
As well as the costumes, a huge amount of work has gone into recreating the equipment they are playing with.
The curved bats have been made by collecting broken bats and cutting them into shape.
Score notchers
Mr Beebe had to venture to Colne Valley Museum in West Yorkshire to track down a ball similar to that used in the 18th Century.
He said: "The original cricket balls were made of wool, wound wool and then covered with hide.
"The closest we've come to that is to cover a woollen ball with wet raw hide and let it dry and this gives you a reasonably hard cricket ball.
"We'll be using that some of the time, but I don't know how long it will last."
Other key differences are the stumps. In 1744 there would have been two instead of the current three and balls could pass between them without the batsman being out. Bowling was underarm and the scoring method was interesting.
"The scorers had a stick and a knife, and they put a notch in it for each run, so this is how you 'notched up a score' and it was much later 'notchers' became scratchers when they started using a pen," Mr Beebe said.
There were also four balls in an over rather than the current six.
Pondering how today's professional cricketers would have fared with the 1744 equipment, Mr Beebe said he believed their skills would have stood them in good stead.
He said: "I think their hand-eye co-ordination would come right in and it wouldn't take them long to get used to underarm bowling.
"With the curved bat, it could be difficult if the ball rolled along the ground, then it could be used more like a hockey stick. The pitches were not rolled or anything like that."
However, even following all his work, Mr Beebe said his preference would still be for the modern game.
The full contrast between the 18th Century game and modern cricket will be shown when a T20 match is played on Friday at the festival complete with coloured clothing, music and other entertainment.