Barrow Dock Museum cash appeal to buy Roman bracelet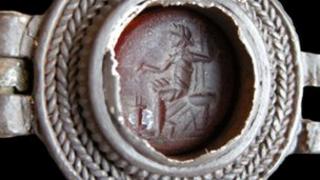 A museum is appealing for help to raise £1,800 to buy a Roman bracelet which was unearthed in Cumbria.
The ornate silver bracelet, dating from the 2nd or 3rd century AD, was found by a metal detectorist in 2012 in Dalton.
It is on display in the British Museum in London, but the Dock Museum in Barrow-in-Furness wants to bring it back to the area where it was found.
Museum curator Sabine Skae believes it was owned by a rich woman who liked to "flaunt" her wealth.
The jewellery, engraved with the image of the god Jupiter, has been declared treasure.
This means an ancient law applies, which allows the British Crown to claim an item of value if the owner cannot be traced.
Lots of Roman coins have been unearthed in Barrow-in-Furness, but there is no firm evidence the Romans colonised the area.
'Flaming altar'
Ms Skae said the lack of any evidence of Roman buildings in Furness meant it was not clear if this bracelet was worn by a native or Roman woman.
She said: "I'm thinking of a well-to-do noble woman who is certainly aware of the Romans who values their fine pieces and wants to show off her wealth and is living in some style in Furness."
To declare an item treasure, an in-depth curator's report had to be compiled.
It said: "A Roman silver bracelet, now broken in two, with a twisted hoop and hinged bezel.
"The distorted elliptical hoop comprises a fine and evenly-twisted, tightly-spiralled tube made from circular-sectioned silver wire.
"Its ornate upper face comprises an outer basal zone of herringbone pattern, formed from three concentric circles of twisted wire, and a central raised open dome with ribbed side and stepped, apparently rubbed-over, setting.
"The oval gem, seemingly of translucent orange-red colour, has dropped out of position to the base of the box-setting, presumably as a result of the deterioration and loss of an original organic packing.
"Engraved into its lightly convex surface is the image of a seated Jupiter, with wreath and full-length drapery, holding a sceptre in his left hand.
"In his extended right hand he holds a patera above a stylised flaming altar."