High death rate north Cumbria trust 'rebanding' nurses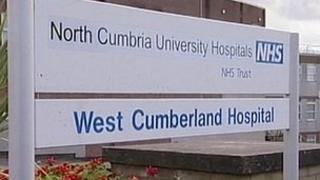 Manager nurses could be sent back to the wards of north Cumbria's hospitals after a report criticised patient care in Carlisle and Whitehaven.
North Cumbria Hospitals Trust is considering "re-banding" some senior nurses at West Cumberland Hospital and Cumberland Infirmary.
The trust was one of 11 put into special measures after the Keogh Review into high death rates.
The trust said the nurses would still get their senior salaries.
A consultation is under way on the changes, which could come in by October.
The government's Keogh Review was set up after shortcomings led to hundreds of deaths at the Mid Staffordshire NHS Trust.
'No redundancies'
North Cumbria University Hospitals Trust said it was carrying out an urgent nursing review.
A statement from the trust said: "As a result of changes, it is estimated that under 5% of senior nursing staff will need to be re-banded from their current roles to become part of the core nursing team on the wards where they can focus solely on delivering patient care.
"There will be no redundancies as a result of the change and those senior nurses affected who will be transferred to the core nursing team will have pay protection in line with trust policy."
The trust is in the process of handing over the running of the two hospitals to Northumbria Healthcare NHS Foundation Trust.