Revived Derwentwater Regatta revived after 220 years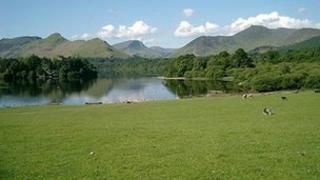 Thousands of people are expected to see the first Derwentwater Regatta to take place in more than 220 years.
The event, which was introduced by Joseph 'King Pocky' Pocklington, will see boats sail past Crow Park and Friar's Crag in Keswick.
King Pocky bought Derwent Island on Derwentwater in 1778 and made friends with local seafarer Peter Crosthwaite.
Together they devised a series of regatta activities on and around the water, with a fair in Crow Park.
The festivities would reach their climax in a mock attack of the island, with King Pocky firing a cannon towards the local invaders.
The National Trust, with the help of local businesses, is to revive the event which last took place in 1790.
Ranger Penny Webb said: "King Pocky was certainly an eccentric with a sense of humour, with brilliant ideas for enjoying the water and the great outdoors.
"Hopefully this will be the start of a new annual tradition, bringing the community together to organise a wet and wonderful array of extraordinary antics."
David Williams from Derwentwater Marina said the event will "remind us of the traditions and history of the lake".
'Satisfying bang'
One of the traditions of the 18th Century regatta was to signal the beginning of the event at 13:00 with the firing of a cannon.
After an appeal to find one, Gerard Richardson from the Whitehaven festival offered the cannon from Bulwark Quay.
Sailors traditionally would have relied on this signal, which coincidentally fired at 13:00, to set their clocks and instruments used for navigation.
Ms Webb, who made the appeal said: "I was amazed and very grateful. He came up trumps for us with an offer to borrow Whitehaven Harbour one o'clock gun.
"Armourer Peter Hathaway-Jones, who has been refurbishing the cannon, showed us how to fire it using blanks - it was a very memorable afternoon.
"Although the field gun at the 2013 Regatta won't quite match the 1786 feat of sound it definitely makes a very satisfying bang."
The two-day Derwentwater Regatta is set to start on Saturday from 13:00 BST.