Ambleside 'log cabin' homes to protect solitary bees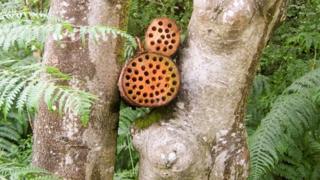 A caravan park in Cumbria has created "log cabin" homes for lone bees in a bid to boost the declining population.
Unlike bumble or honey bees, solitary bees do not live in colonies, but make individual nest cells for their larvae.
At Skelwith Fold Caravan Park, near Ambleside, thousands of tiny tunnels have been bored in hardwood logs in different locations around the grounds.
Owner Henry Wild said bees were "really important" and holiday parks should do all they could to encourage wildlife.
There are about 200 species of solitary bee in the UK. Some nest in small tunnels or holes in the ground or in sandy banks, piles of sand, or crumbling mortar.
Bee 'glamping'
Others use the hollow stems of dead plants such as brambles, or tunnels previously bored into dead wood by beetles.
Mr Wild said the idea came from Rufus Bellamy, the son of environmental campaigner David Bellamy.
"At the start of the year I was talking to Rufus and he told me that bees were having a real problem.
"He said 'why don't you start a glamping site for them. You can create little hotels out of old logs by drilling holes into them, and make an area where the bee can go into if it needs some shelter'.
About 7,000 were created for what is hoped will become a safe haven to help the harmless, non-aggressive insects rebuild their numbers.
"We're fortunate here to have a great diversity of wild flowers which produce an abundance of the nectar and pollen which bees collect," Mr Wild said.
"Skelwith also has an ancient tarn which yields on its banks a ready supply of mud used by solitary bees as plaster to wall-up the cells in which they have left eggs and food.
'Buffer zones'
"But perhaps most significantly, we long ago declared Skelwith to be a no-go zone for pesticides and insecticides of the type often blamed for bee loss."
He added: "Bees are so important to us.
"They're pollinators, they give us lovely flowers and the food we eat, so we need to look after these things.
"The hope is if we can increase the bee population year on year the breeding programme will get better.
"Here in the caravan industry we've got the ability to create what I'll call buffer zones and allow things like bees, butterflies, insects and everything else to thrive.
"We can really do our bit for wildlife."