Kestrels guard Cumbria County Council winter grit stock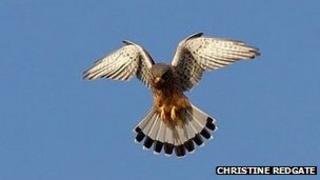 A pair of kestrels has been helping to protect the salt stocks Cumbria County Council uses for winter road gritting.
In spring the birds of prey set up home in the highways' depot at Lillyhall, in a nest box previously used by an owl.
Council officials said their presence has helped keep out the pigeons and crows which contaminate the salt with their droppings.
Their two surviving chicks have now flown the nest and it is hoped the birds will return in coming years.
Highways engineer Les Bell said: "They've been doing a fantastic job keeping out other birds such as pigeons and crows which are a health hazard.
"They produce an awful lot of droppings, contaminating salt stocks and causing the structure of the salt barn to deteriorate in the long term, which is costly to repair."
He added: "The kestrels don't seem to be bothered by people coming in and out of the salt barn.
"We restocked it last week and thought the noise might scare them away but they just sat up in the eaves and watched."