Whitehaven Civic Hall: Petition bid to halt closure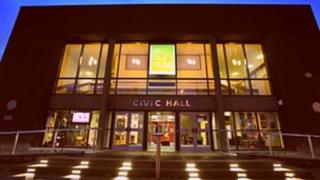 Campaigners in Cumbria have called on their council to prevent a popular venue falling victim to budget cuts.
Whitehaven Civic Hall hosts live entertainment and activities ranging from exercise classes to pigeon shows.
As part of £2.6m budget cuts, Copeland Borough Council is withdrawing funding and it is due to close on 31 October.
A petition organised by the Civic Hall User Forum, asking the council to reconsider, has attracted more than 1,300 signatures.
The group also hopes Sellafield will step in with funding, as it did with the nearby Beacon Museum, which was also destined to close.
The council said it was considering its response and would be issuing a statement in due course.
'Social service'
The hall has a stage where bands and local theatrical groups can perform, and is used for events including training courses, beer festivals and blood donor sessions.
Wadvern Davies, from the Civic Hall User Forum, described the venue as "very integral" to community life.
"In the past year 71 different groups have used it for activities," he said.
"If this facility is lost, where are people going to go?
"There are services such as a youngsters' dance school. If this folds, what else are they going to do?
"Older people have a line dancing class which gives them exercise and also the chance to meet friends.
"Who else will provide this? It's a social service."
The plan is to present the petition to the council leader in the coming week.