Former homeless woman plans hostel in West Cumbria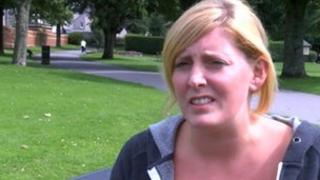 "It feels totally pointless, you feel suicidal, there doesn't seem to be any light at the end of the tunnel and it was a dreadful place to be."
Those were the thoughts of Rachel Holliday when she was sleeping rough in Cumbria as a teenager.
After receiving help, she has been able to secure a job, a home and now wants to help others in West Cumbria.
Now 33, Ms Holliday is hoping to create a hostel providing temporary accommodation for homeless people and prisoners who have been released.
Her plans are at an early stage, but she is working with the Whitehaven Community Trust to find a location for the hostel in West Cumbria.
Kerry Maxwell, from the trust which already runs two hostels for 16 to 24-year-olds, said homelessness is "becoming an increasing problem" in the area.
'Hard times'
Ms Holliday, a married mother-of-two from Hensingham, Whitehaven, said the help she received as a teenager turned her life around.
But she added: "I wasn't always so lucky. I have had over 20 addresses in my time and I have struggled with addiction and mental illness.
"It was a bad spiral from when I got into a bad crowd at school. I ended up leaving home very young, about 15-years-old, moving from place to place and eventually got mixed up with drugs and drinking.
"One day, I was about 19, I opened my eyes, and there I was, homeless, moving from place to place and nobody wanted to know."
Mrs Holliday is one of the directors of the Time to Change project which aims to provide shelter for homeless people and encourages them to develop skills.
"It's a community work project, so we would be totally self-sufficient, not dependent on taxpayers money. The people would be up in the morning doing community work, alongside volunteers, sustaining the project itself."
She said residents of the hostel would be tested for drugs on arrival and will have spot checks during their stay, which would be a maximum of six months.
She added the only type of offender that is allowed to be admitted will be those that are "low risk" and the majority of referrals will be West Cumbrians who have "fallen on hard times" and coming from the Copeland and Allerdale homeless departments.
The plans will be discussed at a public meeting in September.