Four sentenced after attack on Carlisle club manager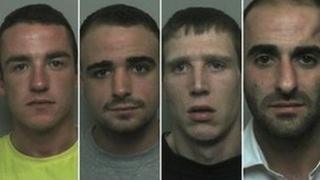 Four men have been sentenced after being convicted of a "vicious" attack on a Carlisle nightclub manager.
Tim Ip, 27, suffered serious head injuries after being assaulted outside the Concrete nightclub in Lowther Arcade on 7 June 2012.
Connor, Joshua, Ricky and Lee O'Neil were found guilty of affray at Carlisle Crown Court.
Police said the men were related. The first three men were jailed but Lee O'Neil received a suspended sentence.
After the attack Mr Ip was in a coma for one month and was left partially sighted and with a limp on his left side.
He said: "I don't remember anything at all about that night and I have lost quite a lot of memory due to the incident.
"I'm just taking things in my stride and carrying on really because that is who I am.
"I trip up occasionally walking through town and stuff like that and people cut across me quite quickly which scares me a little bit, I'm almost like a horse with blinkers on."
Road to recovery
Det Insp Furzana Nazir, of Cumbria Police, said: "The attack on Tim was unprovoked by a group who acted as a pack.
"Tim is a local, well respected man within Carlisle.
"This was a complex investigation into a serious assault which at the initial stages may have proven fatal.
"I am really pleased that Tim is on the road to recovery and I am sure his family is pleased that he is recovering. However, even a year later Tim is not by any means the way he used to be."
Details of sentences:
Connor Terrence O'Neil, 19, of Kingmoor Road Carlisle, was jailed for 20 months
Joshua O'Neil, 22, of Sandpiper Drive, Peterborough, was jailed for two years
Ricky O'Neil, 26, of Bernard Street, Southampton, was jailed for two years and three months
Lee O'Neil, 30, of Sandpiper Drive, Peterborough, was given a suspended sentence of two years
Sean Carruthers, 30, of Sunnymeade, Carlisle, and Jodie Patricia O'Neil, 29, of Orchard Lane, Southampton, were found not guilty of affray at an earlier hearing