Stuart Hyde to fight attempt to make him leave police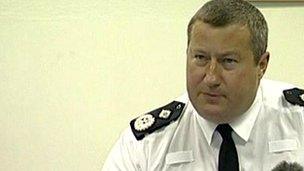 Cumbria's temporary Chief Constable said he would challenge any decision to ask him to retire or resign.
Stuart Hyde has been suspended since September. An investigation has found no evidence of misconduct.
However the force Police and Crime Commissioner (PCC) Richard Rhodes said Mr Hyde had been re-suspended and a process started which could lead to him being asked to leave.
Mr Hyde said he was "surprised and shocked".
In October, he was cleared of serious misconduct by the Independent Police Complaints Commission (IPCC) but an investigation by South Wales Police continued.
It found no evidence of misconduct but made recommendations covering breaches of guidelines on using the force credit card, overseas trips, social media and recording gifts and hospitality.
Mr Hyde had shown "poor judgement" and had lost the confidence of senior staff, Mr Rhodes said.
Mr Hyde said he was surprised at the PCC's decision as detectives "looking at every single thing I've done over the last few years had concluded that there was no evidence of misconduct".
He accepted he had "some things to learn" from the recommendations.
Mr Hyde was made temporary Chief Constable in January 2012.
That appointment ends on Friday, when he reverts to his original post of Deputy Chief Constable.
At that point the PCC no longer has jurisdiction over him and he would report instead to the Chief Constable.
Merseyside Police Deputy Chief Constable Bernard Lawson is currently acting in that role.
Mr Hyde said his suspension specifically related to his temporary role and he was expecting clarification on whether he would be suspended from his substantive role after 1 September.
"If given the opportunity" he would return to work, he said.
Related Internet Links
The BBC is not responsible for the content of external sites.