Sellafield workers call for 'sustained investment'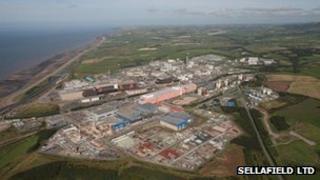 Sellafield nuclear plant workers have launched a campaign to attract fresh investment to the site.
They are calling for a new nuclear power station in the area and the possible reuse of plutonium stocks.
The Sellafield Workers Campaign said the plant could generate more than £1bn locally over the next five years.
The Department for Energy and Climate Change acknowledged Cumbria's role, but said the decision about the location of new plants was up to developers.
Unite union national officer Kevin Coyne said without the investment, Cumbria would become an "economic wilderness".
He also urged the government to work with those councils in Cumbria which backed further studies into storing radioactive waste underground.
Geological disposal
Mr Coyne said: "Sellafield is strategically important to the UK and it is crucial for the economic survival of Cumbria.
"Without Sellafield, Cumbria would become an economic wilderness while Britain would struggle to meet its low-carbon energy needs."
He said the campaign was calling for "a sustained and coordinated investment strategy" including a commitment to a new nuclear power station.
"However, it is also crucial that we begin a new search for a geological disposal facility and we examine ways of effectively re-using the stockpiles of plutonium currently being stored at Sellafield," he said.
The decommissioning process at Sellafield is under way with the final site clearance set for 2120.
Dr Ruth Balogh, nuclear issues campaigner for West Cumbria and North Lakes Friends of the Earth, rejected suggestions that Cumbria needed a new nuclear plant.
She said: "They are wrong about the 'economic wasteland'. The decline of jobs at Sellafield is not a steep decline.
"We need to really grasp that Sellafield is a nuclear waste facility and we have to look after it properly."
Commercial decision
She said the Friends of the Earth group believed the only safe way to deal with plutonium was to immobilise it.
Dr Balogh said they had also published a report that suggested Cumbria could produce enough renewable energy to meet the population's demands without the need for new nuclear developments.
A Department for Energy and Climate Change spokesman said: "Government will ensure that the conditions are right for investment in new nuclear power plants. However, ultimately it is a commercial decision for the developers as to where the new plants will be located.
"The Government remains firmly committed to geological disposal as the right policy for the long-term safe, responsible and cost-effective management of higher-activity radioactive waste from legacy and future nuclear power stations.
"We are reviewing the site selection aspects of the managing radioactive waste safely programme, and intend to launch a public consultation on proposals for a revised siting process in the autumn."