Inquest into death of Elleanor Bennett at Furness General Hospital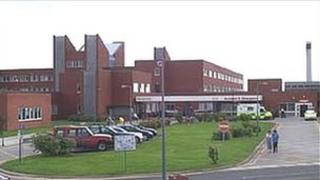 An inquest into the death of a baby girl treated at a trouble-hit Cumbrian hospital has opened more than nine years after her death.
Elleanor Bennett died the day after she was born at Furness General Hospital, in Barrow, in February 2004.
At the time a death certificate stated she died of natural causes.
But in March her death was referred to the South Cumbria Coroner after a police investigation into a number of baby and mother deaths at the hospital.
The police inquiry was launched after a 2011 inquest, held by the same coroner, into the death of baby Joshua Titcombe.
Ian Smith ruled Joshua died of natural causes, nine days after his birth at the hospital's maternity unit in October 2008, but that midwives repeatedly missed opportunities to spot and treat a serious infection.
Explanation needed
Elleanor's parents, Lesley and Gary, of Dalton-in-Furness, were spoken to as part of the subsequent investigation by Cumbria Police.
Opening the inquest in Barrow, Mr Smith said an explanation was needed for why the hearing was taking place so many years after the death.
He said Elleanor died at Liverpool Women's Hospital after she was transferred from Furness General.
He added: "At the time the death was not reported to the Liverpool coroner and so the death went completely unreported to anyone at all."
Giving evidence, Mrs Bennett, who said she had encountered blood pressure issues with her previous two pregnancies, told the hearing that at the time a consultant at Furness General informed her that her daughter's death was "just one of those things".
The inquest heard evidence that there was no record of Elleanor's heartbeat for 43 minutes before her birth. Guidelines at the time advised monitoring should take place every five minutes.
A doctor was also not called after the failure in recording a heart rate.
Marie Ratcliffe, the midwife in charge, said attempts were made to record the heartbeat, but it was "technically very difficult to do".
The inquest heard an internal review of the death was later carried out by the trust's then head of midwifery, Denise Fish.
Independent inquiry
The hearing was told a memo written by Miss Fish, as part of the review, said that if the case went to litigation, then expert witnesses would "certainly query" the 43-minute gap in the heart rate measurement.
Barrister Jason Wells, representing the family, asked Miss Fish why the Bennetts were not aware that problems had occurred.
She replied: "I can't remember. I thought I had spoken to Mrs Bennett at an earlier date."
Mr Wells countered that the first moment Mrs Bennett became aware was when "the police came knocking on her door" years later.
Earlier this month, Health Secretary Jeremy Hunt announced an independent inquiry would take place into the management, delivery and outcomes of care provided by the University Hospitals of Morecambe Bay Trust's (UHMBT) maternity and neonatal services between January 2004 and June 2013.
Cumbria Police have said they are currently only investigating the death of Joshua Titcombe after ruling that other deaths at Furness General they probed would not be subject to a criminal prosecution.
The inquest continues.