Sellafield nuclear waste firm keeps contract despite criticism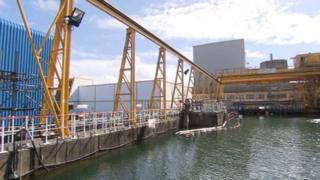 The organisation cleaning up nuclear waste at Sellafield in Cumbria has had its contract renewed despite fierce criticism over delays and costs.
The Nuclear Decommissioning Authority (NDA) said it wanted to give Nuclear Management Partners (NMP) further time to make "significant improvements".
NMP chairman Tom Zarges said the task at Sellafield was "unprecedented".
The consortium has been criticised for missed deadlines, overspent budgets and "incorrect expenses".
MPs who visited in 2012 blamed poor management for what they descried as "totally unacceptable" delays.
In June Sellafield Ltd was fined for sending low-level radioactive waste to a landfill site.
More recently the GMB union demanded an inquiry after an audit of senior employee expenses revealed some which NMP accepted were submitted "in error".
'Improvements must be made'
NDA chief executive officer John Clarke said: "Sellafield is by far the most complex and challenging site in our portfolio, and we are determined to drive improved performance.
"The right decision is to extend the contract to give NMP further time to bring about the improvements in capability and performance at the site that we and they are looking for.
"We have had extensive discussions with NMP and made clear where these improvements must be made."
NMP was awarded a 17-year contract in 2009, which included periodic break points at which it could be continued, cancelled or modified.
The first five-year period comes to an end in March 2014.
A NDA spokesman said the contract remained largely unchanged apart from "slight modifications to encourage greater focus on high hazard material".
Mr Zarges said: "We have learnt an enormous amount about the challenges of the site and the areas that we need to focus on looking forward."
NMP is a consortium comprising US engineering and construction company URS, French energy firm Areva and Britain's AMEC and is the parent organisation for Sellafield Ltd, which employs 10,000 people under contract to the NDA.