Greystoke crash victim Dominic Loftus 'kind and generous'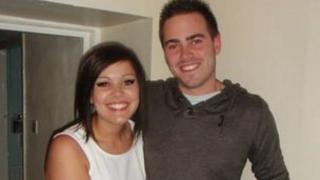 The father of a 22-year-old man killed in a crash that left three of his friends injured has paid tribute to his "popular" son.
Back seat passenger Dominic Loftus died when the BMW he was travelling in left the road between Greystoke and Penrith, hitting a hedge and wall on Thursday.
His father Ian, of Penrith, said his son had a "zest for life" and was very popular.
Officers said the crash happened at 23:30 BST on the B5288 near Motherby.
Another passenger, aged 21, from Penrith is in a critical condition, police said.
'Hardest worker'
A statement from Mr Loftus' family said: "There aren't enough column inches to describe Dominic and how much we are so proud of him and his zest for life - he couldn't sit still and even got bored on Christmas Day.
"When he was 18 and we drove into Penrith, it seemed every other car flashed, beeped or waved at us, and every person smiled or spoke to him.
"We never knew until then how popular he was and how many people knew him, and liked him."
Mr Loftus was a keen rugby player and former pupil at Fellview School at Caldbeck, his family said.
The statement added: "For those of you who knew Dominic, you will have known him as kind and generous, always ready to help out, and the hardest worker that I know."
The 23-year-old driver, from Penrith, was taken to Cumberland Infirmary with serious but non life-threatening injuries.
Another passenger, aged 22, from Watermillock was taken to Newcastle Hospital with serious injuries.