'Locally extinct vendace' found in Lake District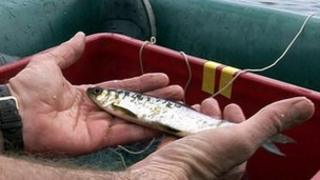 A breed of fish thought to be locally extinct for 12 years has been re-discovered in the Lake District.
Britain's rarest freshwater fish, the vendace, which dates back to the Ice Age, was found in Bassenthwaite Lake.
The 54mm (2in) fish was discovered in the lake during an annual fish community survey.
The vendace has only ever been known at four sites - Bassenthwaite Lake and Derwent Water in the Lake District and the Castle and Mill Lochs in Lochmaben.
Dr Ian Winfield from the Centre for Ecology and Hydrology led the autumn survey and said the size of the fish suggests it hatched during the spring.
He added the discovery was a "very pleasant surprise" and it "gives great encouragement to everyone involved in the restoration of Bassenthwaite Lake and its fantastic wildlife."
Each year, the abundance and composition of the fish community is assessed using hydro acoustics combined with limited netting.