Carlisle City Council unveils retail master plan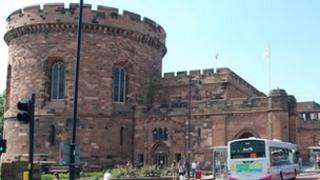 Plans to increase the "vitality and viability" of Carlisle city centre have been unveiled.
Carlisle City Council want to improve "retail growth" in the city by maintaining existing shops and by building a new retail development.
The draft master plan has identified seven "character areas" for potential development, including Citadel, Lowther Street and Botchergate.
A council spokesman said the plans were "extremely important" for the city.
The public can see the plans for the 2015-2030 development at the city's civic centre and at Carlisle Central Library.
Councillor Heather Bradley, said: "It's extremely important for us because we want Carlisle to develop... the whole idea is to enhance what we already have and increase the vitality and viability of the city centre.
"We do have inquiries from national chains who want to open in Carlisle, the problem is much of our retail space is quite contained.
"There also isn't the space for existing traders to upsize and we need to plan to try and change that."