Performance fears spark Cumbria secondary school visits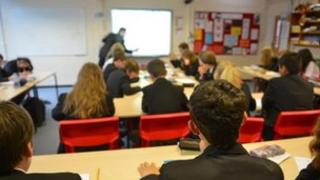 Inspectors are visiting a number of secondary schools in Cumbria over concerns about underperformance.
Ofsted said about 16 schools would be inspected over two months.
Cumbria County Council said it was working with it to understand the lower proportion of good and outstanding secondary schools.
The National Union of Teachers said goalposts were moved too frequently and this style of inspection was causing too much stress.
Ofsted Regional Director for the North West Mike Cladingbowl said: "Ofsted is concerned about the number of secondary schools in Cumbria that are not yet good.
"These schools are inspected more regularly. As a result of the poor performance of a number of Cumbria's secondary schools, we will be inspecting a number of schools this half-term to find out why they are underperforming.
"As part of this, Ofsted wants to know what the county council is doing to improve the quality of school and academies in Cumbria."
'Blitzing schools'
A report will be sent to the council early in the new year.
National Union of Teachers Cumbrian secretary Alan Rutter said many of the schools had been inspected recently and had hardly had time to put in place requested measures.
He said: "The way Ofsted come in and the way they are blitzing schools at the moment is causing so much stress and they are also inspecting such a narrow range of areas and it doesn't give you a full picture of the school."
A Cumbria County Council spokesman said the inspections reflected a national change in approach by Ofsted.
He said: "We are continuing to work closely and productively with Ofsted as they seek to understand why the proportion of good and outstanding secondary schools in the county is lower than the national average and behind the percentage of good and outstanding primary schools in Cumbria."