Cumbria County Council proposes cutting bus subsidies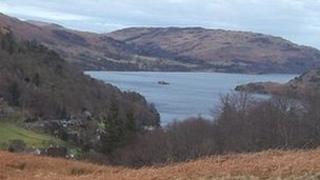 Subsidies supporting 70 loss-making bus services across Cumbria could be axed by the county council.
The move would affect buses in towns and rural areas, but the authority said it would help it save £1.9m per year.
Forty-three daytime services, 17 evening services and 10 Sunday services receive subsidies - about 5% of the total services across the county.
MPs, councillors and bus users have warned the services are vital for many people who have no other way to travel.
'Real lifeline'
Rory Stewart, Conservative MP for Penrith and the Border, said: "The bottom line is that the survival of our already diminished rural bus routes is once again under threat.
"I cannot imagine that any of the routes that we in Penrith and the Border depend on are anything but a real lifeline."
Kirkby Stephen bus user Ann Sandell said: "I go once a week to Kendal to see my mother in a nursing home and I wouldn't be able to visit her.
"I can't believe the county council is serious about it. It will be devastating to the people of Kirkby Stephen."
Libby Bateman, Conservative county councillor for the town, has started a petition in protest at the proposals.
Roger Davies, of Bus Users UK, warned scrapping subsidies was a false economy.
He said: "You reduce people's ability to move around and they become more isolated and dependant on other sources, such as social services.
"Then you're in a position where you're saving money with one hand but paying it out with the other - which is why the withdrawal of a bus service should be absolutely the last resort."
Some well-used services cost the council 7p per passenger in subsidies while others cost more than £12 per person, according to council figures.
The Kirkby Stephen to Penrith service costs the council £22,000 per year.
Many of the threatened services are provided by Stagecoach, which said it would "look at all possibilities once decisions have been made".
'Smaller buses'
Smaller operators have said they will be unable to continue providing services.
County councillor Keith Little, who is responsible for highways and transport, said: "We believe where they are relatively small subsidies because of reasonable passenger numbers, the bus companies will be able to negotiate with their communities to see if they can sustain these services - maybe in a reduced form or with smaller buses."
The council said it would still support community transport schemes such as Rural Wheels.
A list of routes affected and other budget consultation proposals are available on the county council's website. People have until 20 January to comment on the proposals.