Is the Lake District's World Heritage status bid worth the effort?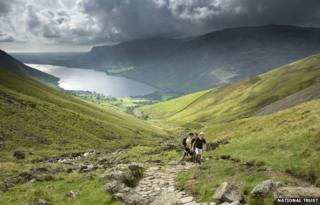 The Lake District is bidding to stand shoulder-to-shoulder with the Taj Mahal, Great Barrier Reef and Grand Canyon. But is winning World Heritage status worth the hassle?
Its chocolate box landscapes have bewitched generations.
The rolling hills and glistening waters proved an irresistible draw for the UK's finest poets and thousands of tourists flock annually to enjoy its wide-open spaces.
Now, after a number of unsuccessful attempts stretching back to the 1980s, the Lake District is finally within reach of securing World Heritage status after the government announced it would be put forward as the UK's next nomination in 2016.
But not everyone is sold on the idea. Guardian journalist George Monbiot claims the area is "one of the most depressing landscapes in Europe" and competing with the "chemical deserts of East Anglia for the title of Britain's worst-kept countryside".
He believes the forests which once covered the fells have been "sheepwrecked" by grazing animals, depriving animals of their habitat and causing floods downstream.
World Heritage status also brings with it hefty preservation responsibilities and is no guarantee of extra money. For instance, the Hadrian's Wall Trust is currently struggling with a cash crisis despite the Roman structure being on Unesco's list since 1987.
The total cost of the Lake District's bid for World Heritage status is expected to be in the region of £400,000, according to consultants.
So is the status actually worth it?
"Being added to the list gets a destination a real lift in terms of publicity," says Lonely Planet website editor Tom Hall.
"I think it's a good thing. The question is whether it's an essential thing."
Richard Greenwood, of Cumbria Tourism, which is involved in the campaign, admits the fight is "fraught with problems" but believes the area must grasp the opportunity.
The Lake District currently attracts 14.8 million visitors each year, spending a total of £2.2bn. Even a 1% increase in visitor numbers, Mr Greenwood says, could be worth about £20m a year to the local economy through spending on accommodation, food and drink, and leisure activities.
"The places everyone seems to be talking about are China, India, Russia and the UAE, where people are just discovering overseas travel," he says.
"They tend to use heritage sites as a bit of a bucket list of places to visit."
While existing hotels could cope with an increase in tourists, Mr Greenwood adds it could "trigger interest from branded chains to position themselves in the Lake District".
That, though, would require a huge change in the sort of tourists the area currently attracts. About 90% of Lakes visitors currently come from the UK and the majority of those travel less than two hours to get there.
So is it realistic to expect a flood of tourists from across the globe?
"Lots of visitors to the UK go on quite a well-trodden route that takes in London, Bath, Stonehenge, York and Edinburgh," says Lonely Planet's Mr Hall.
"To get people off that [route] is a slightly different thing but there's a potential gain to be had."
Overseas marketing is "very expensive" and the Lake District's current spend is "pretty modest", Mr Greenwood reveals.
"We'd have to work cleverly. Creative thinking and close working with organisations such as Visit Britain would be required.
"It would be a gradual transition. It's not going to happen overnight - and it's not going to happen if we sit on our hands."
The people behind the Lake District's bid are conscious of the situation at Hadrian's Wall - which stretches for 70 miles (118km) across northern England and once marked the northernmost extent of the Roman Empire.
Granted in 1987, World Heritage status has not been a "silver bullet" to cure all ills and the Hadrian's Wall Trust last month said the long-term future of the site was under threat due to two years of "severe cuts".
The trust's chief executive Linda Tuttiett admits it is "very difficult to say" whether World Heritage status has led to more visitors and while the status is sought-after by many, it brings with it challenges.
Indeed a consultants report commissioned by the Lakes bid stated visitor numbers fell for the first 15 to 18 years after Hadrian's Wall's status was secured.
"This was," it says, "a case study in how World Heritage inscription alone achieves very little".
A success story can be seen in Blaenavon, however - a once-tiny Welsh village that become a centre for iron and coal in the 19th Century before the industry collapsed.
Designated a World Heritage site in 2000, it has since benefited from a £30.8m programme of investment.
Visitor numbers have doubled from 100,000 to 200,000 in five years with further boosts to jobs, house prices and town regeneration.
But what do people living and working in the Lake District think?
Philip Johnston is the managing director of a holiday lets firm in the Coppermines Valley near Coniston village.
"The poet Wordsworth tried to stop the railways. Every generation has conflicts and tries to stop something," he says.
"What I hope will never happen is in planning committees people saying 'we can't do that because it's a World Heritage site'.
"I want it them to be able to say 'let's inspire the economy, let's go forward and give our young people something for future generations and let's get on with moving the Lake District forward'."