United Utilities planning to protect Ennerdale Water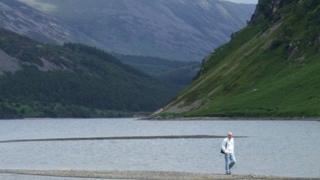 Engineers are looking for routes for a new pipeline to safeguard demand for drinking water in west Cumbria.
United Utilities wants to stop taking supplies from Ennerdale Water, which is a protected wildlife habitat.
The firm said that unless action is taken, there is a risk that areas will face a significant deficit, by 2020.
As part of its ten-year plan, it is considering linking to the reservoir at Thirlmere, or developing a range of local sources.
The company is also asking local people for their views on special drought procedures, which might be necessary during dry spells, before the new system comes into operation.
'A bit trickier'
Dr Richard Blackwell, from United Utilities, said: "Eventually we need to stop using Ennerdale as a source of water.
"As part of that we have had to re-think how we respond when lake or river levels drop too low during spells of dry weather."
He added that until the new system was built, balancing water needs of people and the environment in west Cumbria was "a bit trickier" than it used to be.
"Luckily, Ennerdale's lake level recovers quickly from dry spells", he said.
"So, when we do ask people to save water, it shouldn't be for long, and probably only about once every two-and-a-half years on average."
People have until 17 February to respond to the consultation.