'Spooked' Whinlatter reindeer search on hold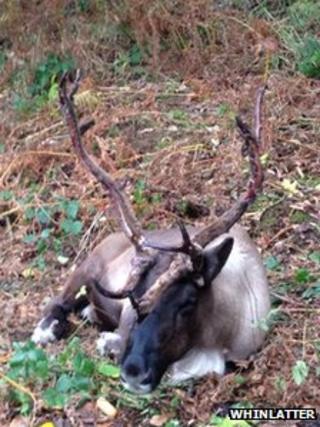 The search for a reindeer missing from a forestry visitor centre in Cumbria after being "spooked" by a dog is on hold until weather conditions improve.
Seven-year-old Borneo was one of two reindeer on show before Christmas at Whinlatter Forest near Keswick.
He escaped over a 6ft fence after a dog chased him out of his pen and has been missing for seven weeks.
Barbara Thomson, from site owners the Forestry Commission, said there had been "sporadic attempts" to find him.
An attempt to coax him back using two other reindeers did not work, she said.
"Various of us have been going up on forays," she added. "There's been one or two half sightings. They're just very good at blending in."
She added that it was a very big area and the weather had not been good, though not bad enough to force the reindeer down in search of food.
No bones have been found, leading the commission to believe he is still alive. It is thought he could survive for "some time" in the wild.
The reindeer were on loan from the Cairngorms Centre in Scotland.