Cumbria PCC Richard Rhodes has precept plan rejected again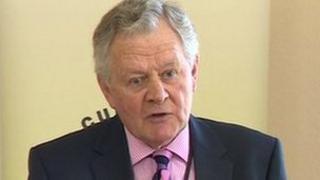 Plans to increase the amount of funding Cumbria Police receives from Council Tax have been rejected for a second time.
The Police and Crime Commissioner, Richard Rhodes, wanted to increase the police precept by 1.93%.
But the watchdog that oversees his work, the Police and Crime Panel, voted against it by 8-3.
Mr Rhodes said he "needs time to reflect" on the outcome and would talks with the chief constable.
The 1.93% figure would lead to an average increase of almost £4 in the annual amount paid by Band D property owners.
In January the panel vetoed a proposed 1.99% rise amid uncertainty about whether it would trigger a local referendum.
However, it has no power to veto a second time and the commissioner has the authority to impose the proposed increase.
In a statement, the panel said the plan was rejected because members did not feel the increase was justifiable while "the evidence appears to be that crime is going down in Cumbria".
It also pointed to many local authorities freezing Council Tax levels, adding that it believed the force had "further opportunities" to make efficiencies in order to avoid raising the precept.
Chairwoman Celia Tibble said: "The panel has fully exercised the powers available to it to hold the commissioner to account.
"We will await the commissioner's response to today's decision."