Greenodd road sign: Agency admits spelling error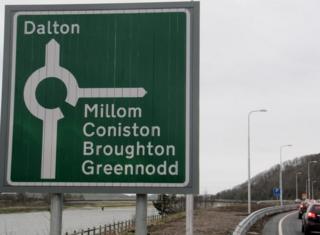 Red-faced transport bosses have been forced to amend a sign at the site of a £2.7m roads scheme after wrongly spelling the name of a nearby village.
The Highways Agency has been working to replace the T-junction of the A590 and A5092 near Greenodd in Cumbria.
But the agency has admitted that contractors, who put up the sign at the weekend, misspelled Greenodd by adding a superfluous "n".
A spokesman said a replacement would be installed as soon as possible.
The error was photographed by Archie Workman, of nearby Ulverston.
He said: "The contractors have been here since July 2013, I just can't understand how they cannot spell such a name correctly.
"They will have had their fish and chips from the Greenodd chippy, their pies from the Greenodd bakery, posted letters at the Greenodd post office and had a pint at a Greenodd pub."
A spokesman for the Highways Agency said: "Our contractors spotted the error when they installed the sign at the weekend and immediately ordered a replacement, at no extra cost to the taxpayer.
"Our priority was to get the roundabout open and bring benefits to road users as soon as possible, so a temporary correction will be made in the meantime."