Backbarrow ironworks: Development hope for historical site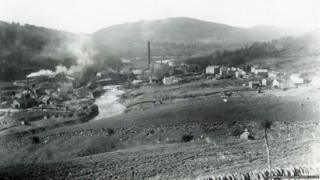 Backbarrow ironworks was in operation for more than 250 years.
When work ceased in 1967 it fell into disrepair.
But the historical site in Cumbria could be saved for future generations, if plans to build a holiday park are approved.
The main products of the ironworks, established in 1711, were gun carriages, cannon and cannon balls.
Its blast furnace, which was fuelled by charcoal, was one of the first to be built in the county.
Iron ore from Low Furness would arrive at the quays in Haverthwaite and then be transported to Backbarrow by horse and cart.
The old furnace is believed to be the only remaining example of its type.
A large proportion of the site has been declared a Scheduled Ancient Monument and is one of the most at-risk industrial plots in England, according to English Heritage.
Lake District National Park planner Ben Long said: "The industrial archaeology of that particular valley that stretches down from the foot of Windermere is long and various.
"The preservation of the archaeological monuments is very high in terms of importance for us.
"The history and cultural heritage are very important to what the national parks are about."
In 2002 and 2011, two development schemes were proposed for housing, office and workshop units, but both collapsed.
Mr Long said the site presented a challenge as developers needed to be able to transform it while ensuring the preservation of the designated remains.
The current owner of the site is hoping to turn it into a holiday village with a shop, cycle hire centre and 30 apartments and is being advised by the planning authority on its application.
Mr Long said: "One of the benefits of the proposed development is that it is accompanied by a scheme to consolidate the archaeology there.
"It is a proposal which seeks to use a demand, which the owners see as being out there for holiday purposes, to bring back into use a site which has failed as employment and housing use and also to secure the future of one the Scheduled Ancient Monuments which is, at present, mouldering into dereliction."