Gull-proof sacks will 'cut litter', Carlisle City Council says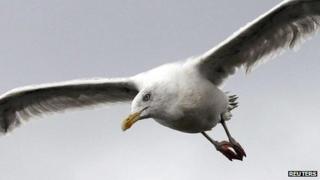 Thousands of Carlisle households have been given gull-proof refuse sacks as the city council bids to reduce waste littering the streets.
About 3,900 homes, which the council says are not suitable for wheeled bins, have been switched to the sacks.
Collections will continue to be weekly, although just over 100 households will see their collection date change.
The cost of providing the sacks and moving other households to wheeled bins has been £65,000, the council said.
Made from a hessian-like material, the sacks are foldable, reusable and can hold two bags of waste.
Angela Culleton, the council's director of local environment, said: "Wherever possible we have provided a wheeled bin because that's definitely the best solution, but it's not appropriate for every household.
"Some people have storage problems or they can't present the bin, so we've had to look for an alternative."
The council said advice on how to use the sacks has been sent to all affected households and a step-by-step guide is available on its website.