John Jenkin admits manslaughter of mother and sister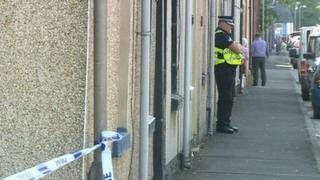 A man with schizophrenia who axed to death his mother and sister had been in a mental health unit two days before the attack, a court has heard.
Alice McMeekin, 58, and Kathryn Jenkin, 20, were found dead at a house in Millom, Cumbria on 8 June.
Preston Crown Court heard how John Jenkin had tried to drown himself in a river two days before the offence.
Jenkin, 24, of Newton Street, admitted manslaughter on the grounds of diminished responsibility.
He had been charged with murder but his guilty plea for manslaughter was accepted by the court.
The court heard how Jenkin was treated at Furness General Hospital after he took a cocktail of LSD, whisky and painkillers before he tried to drown himself in a river and slash his wrists.
Following an examination by a psychiatric nurse, he was then released and went on to kill his mother and sister at the family home in Newton Street.
'Brutally killed'
The court heard he was suffering from a schizophrenic disorder at the time of the offences.
Anthony Cross QC, prosecuting, said: "He was described as having a medium risk of both grandiosity and worthlessness, and a medium risk of a detrimental affect of drug misuse.
"But no other mental health problems are noted or recorded."
When he was arrested, he was found naked by police and had engaged in "extremely bizarre behaviour", the court heard.
Judge Justice King said the matter "was and is a grave case" whereby the defendant took an axe and "on any view brutally killed the two victims".
Jenkin was remanded at Ashworth Hospital in Merseyside to be sentenced to a hospital order or custodial term on 6 March.