Beatrix Potter wages woe letters sell for £6,800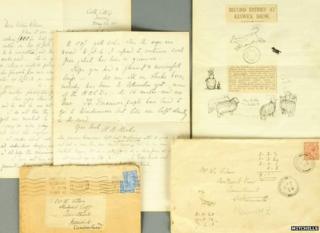 Two letters by the Peter Rabbit author Beatrix Potter have sold for more than four times the expected amount.
Signed Mrs W Heelis, her married name, and sent from her Cumbria home, they are dated 1943 and reveal her concern about the cost of hiring shepherds.
They went under the hammer at Mitchells Auctioneers along with a 1931 newspaper cutting about Keswick Show, which she illustrated with nursery rhyme figures.
The estimated lot price was £1,000 to £1,500 but it sold for £6,800.
Both letters are addressed to Mr Willie Wilson of Herdwick Croft and Herdwick View, Armathwaite.
One of the letters refers to the high wages demanded by shepherds she was seeking for her flock of Herdwick sheep.
Spoiling the market
"As a business proposition it is not business," she wrote.
"The Herdwick industry cannot pay such wages."
The letter also complains about Yorkshire men spoiling the market by offering much more than the local wages.
"I wonder what will happen after the war if prices and subsidies drop - will servants agree to come down?
"I hope the minimum wage might settle the matter."
Mark Wise, senior auctioneer at Mitchells, said: "The letters show a different side to Beatrix Potter than most people are aware of.
"She is best known as the author of famous children's books, but was also a pioneering sheep farmer and Lake District conservationist.
"The letters relate to the problems of sheep breeding at the time, which are actually similar to today."
Speaking about the sale, he added: "There were six telephone bidders.
"I haven't spoken to purchaser, but believe it is a private buyer from Hertfordshire."