Hayeswater reservoir plans show return to mountain tarn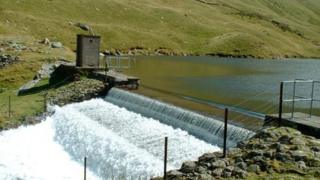 Plans to turn a tiny Lake District reservoir, once a source of drinking water, back into a natural mountain tarn are being put on show.
Hayeswater, near Hartsop, was dammed in 1908 to provide a supply to communities around Ullswater.
It has not been used since 2005, when water company United Utilities started piping water from larger Haweswater.
The £700,000 plans include removing the weir dam and restoring the tarn's river flow into Hayeswater Gill.
Project manager Tony Elliott said: "Removing the weir dam will allow wildlife like eels to migrate in and out of the restored tarn, which will be about 2m (6ft) lower than the reservoir is at the moment.
"Our work shouldn't really cause any major disruption, although walkers on High Street will get a great bird's eye view of the construction work and may wonder what's happening for a short while."
Engineers plan to start lowering the water level in May and begin a four-month restoration scheme the following month.
The company said wildlife, including Hayeswater's population of brown trout, would be protected during the work.
A public exhibition of the plans is being held on Monday at Glenridding Public Hall.