England's only resident golden eagle seeks new partner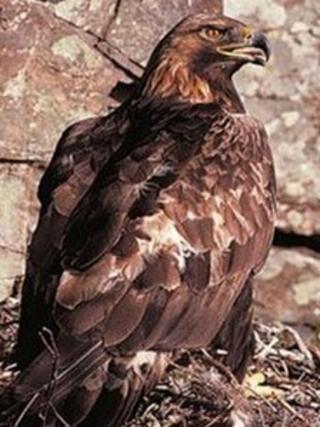 England's only resident golden eagle is looking for a new mate - 10 years after his last one disappeared.
The bird has occupied a site at Riggindale Valley, near Haweswater in the Lake District, since 2001.
The bird has been seen "sky dancing" - a series of dives and rises aimed at attracting a mate.
Dave Shackleton, an RSPB warden, said the eagle's best hope of finding a new partner would be a female "drifting down from southern Scotland".
Mr Shackleton added: "He will perch high up in a prominent area in the valley and launch himself and do a series of stoops and rises - a bit like a giant bat.
"We think he's about 15 to 17 years old which is about middle aged for a golden eagle.
"His predecessor was at least 32 when he died, so he's probably in his prime."
Viewpoints are set up at Riggindale Valley for visitors to the watch the bird of prey at a distance as Mr Shackleton said it is vital the bird is not disturbed.
Golden eagles have been present in the Lake District since the late-1950s and first nested in the Haweswater area in 1969.
The current male is believed to be the third to take possession of the Haweswater territory.
There are about 450 pairs of golden eagles in total across the UK.