Sellafield nuclear site signs deal with Fukushima firm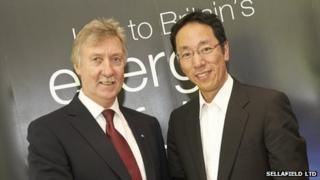 The Sellafield nuclear site in Cumbria has signed an agreement with the firm decontaminating Japan's Fukushima plant, which was hit by a tsunami.
Sellafield said the deal with the Tokyo Electric Power Company (Tepco) would give them access to expertise "renowned the world over".
Specialists from both companies will visit each others' sites to share information as part of the contract.
The Fukushima plant was devastated by explosions during the tsunami in 2011.
The earthquake and tsunami killed thousands of people across northern Japan and left many more homeless, as well as crippling the nuclear plant.
Tepco has been working on the decommissioning project for three years.
Sellafield managing director, Tony Price, said the agreement was a major step forward for the UK nuclear industry.
He said: "We have much that we can help the Japanese with initially, as they move their focus from power generation to cleaning up and decommissioning.
"But the technical expertise of the Japanese is renowned the world over, they are experts in design and manufacturing and, judging by their past performance on everything from motorcycles to nuclear reprocessing. Once they start decommissioning in earnest there will be much that they can teach us."
In another announcement on Thursday, the Nuclear Decommissioning Authority said it had agreed commercial terms with NuGen to extend a land option agreement that reaffirms the consortium's commitment to build three reactors at Moorside in west Cumbria.
The Department of Energy and Climate Change said the reactors, to come online from 2024, will deliver 3.4GW of new nuclear capacity, enough to power up to six million homes.