Lowther Estate row over Grasmere land 'a risk to farms'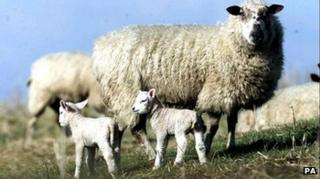 A dispute between farmers and a Cumbrian landowner could put businesses and landscapes at risk, according to a charity representing farmers.
Sheep farmers using common land near Grasmere want to apply for funding for land conservation.
But the landowner, the Lowther Estate Trust, must sign a form to consent to the arrangement and has so far refused to do so.
The estate says it wants to take a more active role in managing the land.
The Uplands Entry Level Stewardship (Uplands ELS) scheme, which is funded by the government, compensates farmers for preserving wildlife and the natural character of the land.
Farmers on common land can apply for such funding, but require consent from the landowner.
Julia Aglionby, from the Foundation for Common Land, which is representing the farmers, said the agreement was simply a "consent form" and did not involve any liability for the Lowther Estate Trust.
She said: "People are at a loss to understand why Lowther will not sign.
"If other landowners take the same view, then we are at risk of farmers going out of business and landscapes being at risk."
Andrew Fox, estate manager for the Lowther Estate Trust, acknowledged the landowner would not be signing up to any liability.
But he added: "We don't know what the changes over the coming years are going to be to the management of the commons and we are looking to form a management plan for these areas in the years going forward."