'Buy Blencathra': Campaigners meet to plan fundraising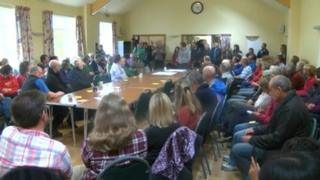 Campaigners hoping to buy a Lake District mountain have held their first public meeting to decide how to raise the money.
The Earl of Lonsdale, Hugh Lowther, put 2,850ft (869m) Blencathra on the market for £1.75m to help settle a £9m inheritance tax bill.
The group Friends of Blencathra wants to keep the peak in public hands.
Organiser Debbie Cosgrove said she had been offered £1,000 in a pub and other money from walkers on the mountain.
"Every direction, people are offering to support this and not just now but long-term, which is the important thing," she said.
She stressed that buying Blencathra, also known as Saddleback, was only the first stage.
"This isn't a one trick pony - we've got to think about what's going to happen for the next 400, 800 years, long after we're gone," she said.
Cumbrian mountaineer Sir Chris Bonington has agreed to be the group's honorary president.
The campaign group 38 degrees is running a petition to keep the mountain in public ownership.
Sealed bids for the mountain must be submitted by 2 July. With VAT the final bill for any new owner could be more than £2m.