BAE Systems signs £70m IT contract with Capita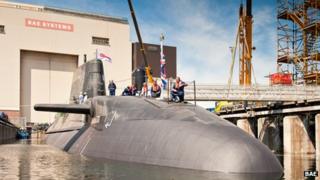 BAE Systems has signed a £70m contract with Capita to improve its IT systems for its submarine building in Cumbria.
BAE is currently designing and building seven Astute Class vessels for the Royal Navy at its yard in Barrow.
The five-year deal will improve the way IT is managed across the submarine building business, aligning it with BAE's wider IT framework, Capita said.
Chief executive Andy Parker said he was "delighted" the company's work would be benefiting the building of the vessels.
The new service model, which will result in lower service charges for BAE, will include specialist IT teams focussed in particular fields including desktop computing and email services, a spokesman for Capita said.
The contract builds on the work that Capita has provided to the business over the past eight years, including the management of IT servers and a dedicated onsite helpdesk.
The Barrow yard has been working on the Astute programme since 2001.