Maryport Roman settlement: Dig unearths 'lost harbour'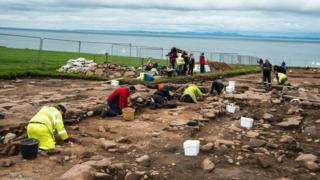 Archaeologists unearthing the remains of a Roman fort on the west coast of Cumbria have discovered what is believed to be a lost Roman harbour.
Oxford Archaeology and a team of volunteers are excavating an extramural settlement at Maryport Roman fort.
The team has now unearthed what is believed to be an earlier fort and lost Roman harbour to the north of the site.
Site director John Zant said they were now trying to "piece together" the "complex story" of the site.
The project is exploring part of the fort's civilian settlement to "build up a picture" of what ordinary life was like.
Believed to be founded before AD120, historians say the stone fort was an "integral part" in coastal defences extending down the Cumbrian coast from Hadrian's Wall.
'Fascinating story'
The civilian settlement, which lies north-east of the fort, is believed to be the largest currently known along the Hadrian's Wall frontier.
Philanthropist Christian Levett, who is funding the project, said: "I'm particularly interested in the connections we're seeing across the Roman empire through the imported objects the team is finding such as amphorae, pottery and ornaments.
"Maryport is a remote but important part of the Roman world with a fascinating story. I'm looking forward to more information coming through as the team continues the detailed analysis after they leave the site."
The team has also found a variety of artefacts, including fragments of tableware imported from Gaul and the Rhineland, storage vessels that once contained Spanish olive oil and Gallic wines, fragments of glass vessels and several items of jewellery including a jet finger-ring and part of a decorated glass bangle.